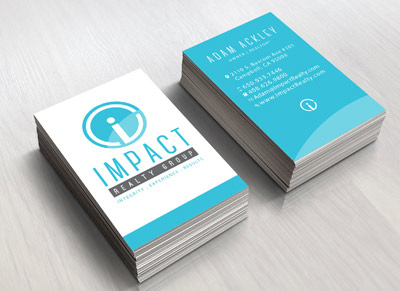 Description
Real Estate agent business card design created for Vibrant Branding Agency.
9 Pro Tips: Marketing Ideas for Real Estate Agents
Simply put, if most of your business is coming from your past clients and it costs you six to seven times more to acquire a new customer than it does to retain an existing one, then you should focus your efforts on marketing to your past clients.
1) Be Mobile and Responsive
I've stressed that going mobile was important in terms of you posting to your social networks while on the go. This is still true today, but this year, I want to stress the importance of being mobile accessible.
You cannot avoid it anymore. Your website and emails need to be designed for all devices and screen sizes and be responsive. Sixty-six percent of emails are opened on a phone or tablet. Facebook has more than 650 million daily active users on mobile devices. And mobile traffic to websites now accounts for almost 30 percent of visits. In short, there are plenty of reasons why you need to be sure that your business is mobile ready.
How It Helps: Being mobile-friendly ensures whoever reads your emails or visits your website has a good experience and that this experience creates a positive perception of your business.
2) Use GIFs in Email
You've all seen GIFs before; they're those soundless graphics that automatically play on a loop. They're great for getting a quick laugh, but these days, they're more often used to caption a situation and convey human emotion without using words. For example…if it's Monday morning, and I'm having a tough time getting motivated, I might text or email this GIF to my friends:
3) Automate Your Content Marketing and Sourcing
When crafting the perfect email newsletter and sharing content with your social networks, coming up with topics to write about and things to share can be challenging. You want to send your email subscribers informative/entertaining content with the purpose of helping them, not selling to them, and you want your social feeds to be filled with the same. However, getting this accomplished is no small task.
For email newsletter content, there are companies like Scripted and Contently that will connect you with freelance writers to do the writing for you. However, if you want to have the emails written, designed and sent for you automatically, we're the only company that can do that for you.
To find content to share on social media, there are two tools I use: Zite and Flipboard. Both are news and blog aggregators that are topic based. Just plug in what you want to read about, and they'll display an up-to-date visual collection of articles. Buffer has a great list of newsletters to sign up for and tools to use for content sourcing too.
How It Helps: Automating some (or all) of your content marketing and sourcing can help free up your time to focus on more important things.
4) Experiment with Hyperlapse
Hyperlapse is a new app that Instagram launched this year. Using time-lapse photography technology and impressive image stabilization software, it essentially puts a few thousand dollars worth of video editing software and expertise in a single app on your phone…for free.
I see Hyperlapse as a unique way for agents to liven up the content they share to Instagram, Facebook and Twitter, and also as a way to (almost) literally liven up their listings.
5) Boost Your Facebook Posts
Facebook has made a lot of changes this past year and the big one was the reduction of organic posts from business pages in the News Feed. The upside is that they've made it very easy to spend a little bit of money to get guaranteed exposure.
A few times each month, go to your Facebook Business Page and find a blog post you've written, a video you've posted or something that is worth making sure plenty of people read or see. For example, our real estate customers might boost their posts that link to their email newsletters. All you have to do is click "Boost Post" and enter your parameters. That's it!
Start experimenting with $5-$10 boosted posts to your existing Facebook fans. This is a low-cost way to get high traffic from your posts.
How It Helps: When people like or click boosted posts, it tells Facebook that they're interested in your brand and posts from your company will appear more often in their News Feed.
6) Utilize Browser Plugins
There are some awesome plugins out there that you can use for your business to help automate some of your marketing activities.
Being on the go a lot, real estate agents can really benefit from using browser plugins to help automate some of their social media. To save you time when looking for things to post to Facebook, Twitter and LinkedIn, here's what I would do.
Use apps on your phone or tablet like Zite and Flipboard. When you find an article you like, save it to Pocket. From your computer browser, you can open all the posts you bookmarked and then schedule them through Buffer. In less than 10 minutes, you can have a week's worth of social media posts scheduled and ready to go!
How It Helps: Being able to find content while playing on your phone/tablet at night or on the go and then having it ready to post from your desktop browser is a huge time saver.
7) Revamp Your Email Strategy
This has not changed a bit and should be a foundational element of your marketing strategy.
You need to make sure that the content that you're sending is both personal and something that the recipient wants to read. Good content marketing is meant to help, not sell to, your clients. Send consistently timed emails with compelling content to your audience to brand you as an industry expert and increase your sphere of influence.
How It Helps: Email is the best way to stay in front of your past clients and is a smart investment because they're your best source for new business leads.
9) Grow Your Email List
Sending emails to your past clients is a must. But you can also use those same email newsletters to keep your name in front of potential clients as well. That's why you should always try to snag email addresses in any situation.
The easiest way is to have your lead capture form front and center on your website. Here's an example from sites we create for our real estate clients:
We've covered a wide range of ideas on how to grow your email list before. The two big takeaways are: never be afraid to ask for an email address and always work on growing your list, no matter the situation.
How It Helps: You never know where your next sale will come from, but if you're continually in front of a large audience, your chances of landing a new client are much greater.
Wrap-up
Your time is valuable and limited; embrace marketing automation tools that help offset the amount of work that you have to do. As you make your plans, remember these three important things.
Your marketing needs to be less about you and more about your clients.
You need to humanize your brand and make it accessible through mobile.

And whenever possible, look to marketing automation as a way to help save you time while increasing the effectiveness of your efforts.
Infomation
:

Vibrant Branding

:

Pismo Beach, CA