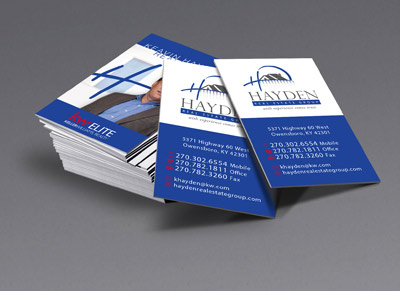 Description
Real estate agent branding. Business card created for Vibrant Branding Agency.
The Real Estate Agent's Guide to Niche Marketing
To become a successful real estate agent, you can't go after every home buyer and seller. You have to target a few specific real estate niches in which you've proven an ability to close deals. These target audiences, property types, and price ranges may not be the ones you envisioned working with when you started your career as an agent, but there's plenty of money to be made by specializing in select facets of real estate sales. Use savvy real estate marketing ideas that help spread word about your focus area(s) and to make it known that these niches are your forte. Below is a guide for selecting your target marketing niche.
By Location
Arguably the most obvious of the many real estate niches in which you can specialize is your geographic market. Some agents like to be known as the go-to agent for their entire town, city, or county, while others prefer to focus their real estate marketing on select neighborhoods and developments. Deciding which of these is best for your business depends on a variety of factors, including the type of community you live in (rural, suburban, urban), the local population, and historical buying and selling data for the area.
Street or Neighborhood
Have you sold a considerable number of homes on a single street or in a small neighborhood? Make it known on your real estate website that you've helped many home buyers and sellers in this few-block radius. Ask your former clients to appear on video to share some words about working with you. Consider creating a graphic to use on your site and in your email marketing that highlights the properties you had a hand in closing. This could simply be a map of the street or neighborhood with details about the deals you closed next to each home image.
Housing Development
Should your sales expertise broaden to an entire subdivision, even better. Showcase your repertoire of home deals closed in a housing development you work with by dedicating a landing page to your history with it. If the homes you helped finalize transactions for were newly built residences, provide a value proposition that notes you're the agent buyers looking for new-builds need to hire. Provide them with social proof by getting real estate testimonials from those you helped purchase properties in the neighborhood.
Town or City
Many agents operate within a more expansive portion of their overall market than just a few streets, neighborhoods, or developments. If you're one of these agents, express your familiarity with your town or city through pages on your site that show employment and housing market data and news (e.g. home value reports, new companies that set up shop nearby) and recreational opportunities for local residents (like the best places for families, singles, Millennials, etc.)
County or Region
Operating in a wider market such as this more than likely means your real estate business is doing well (so congrats). Having said that, it doesn't mean you can rest on your laurels and go without a concrete real estate marketing plan to make it known you're the go-to agent for your county or even a region of your state. If anything, this means a pay per click (PPC) advertising strategy is perfect for your agency. Head over to your Google AdWords account (or set one up if you don't have one yet), research long-tail keywords associated with the area in which you operate, bid on the most pertinent (and moderately competitive) key terms, and create compelling ad copy.
By Home Type
Another common niche to focus on is residence type. If you work in the suburbs, chances are single-family properties make up a considerable portion of home sales in your market. Conversely, if you operate in a big city, apartment sales may be your best bet for making the big bucks. Research the property types in your area and determine which one makes the most sense for you to turn your marketing and sales attention to. This process should include finding out which agents close numerous deals for certain home types, what the typical sales price is for those properties, and your own history in working with those residence types.
Single-Family Detached Homes
Married couples also made up a significant portion of total buyers during that year at 65%, so while each market has its own unique populace, it's relatively safe to assume a healthy portion of buyers in your market are 20- and 30-somethings just getting their lives started.
Appeal to couples planning on starting families (or who are already on their way) by highlighting the family-friendly components of your market (e.g. great parks and attractions). Meanwhile, conduct a separate promotional strategy for couples planning to maintain their active, kids-free lives by marketing the top nightlife spots around and listing qualities they'd appreciate (e.g. spacious interiors and exteriors perfect for hosting parties).
Apartment Buildings and Condos
For the urban dwellers, the most likely (and feasible) option for a home purchase is in an apartment building or condominium complex. Whereas you can showcase the openness of suburban neighborhoods where single-family detached residences run rampant, it takes a different technique for apartment and condo units in the city. One of the biggest differences is transportation: Walking, biking, and the subway are the primary means of moving about for city residents.
So, prove you know what it takes to easily commute around town by offering advice on how to get from one corner of a metropolis to another. Note the best bike paths locals should take, the quickest routes and best times for the train, and beautiful places to walk around town. Take it a step further and consider writing up a real estate report detailing the latest transportation stats that note how much residents can save and the green impact they can have by not owning a car as selling points.
Luxury Residences
Representing wealthy homeowners looking to offload their mansion, luxury apartment, or other high-end property? Then you'll need to reach a small, targeted demographic with enough capital to fund this type of purchase.
Drip email marketing can work for most properties, but these residences likely require a different technique. Send personalized, detailed email to those in your customer relationship management (CRM) database who are in the market for high-end properties and explain why your listings are ones they need to check out.
Adding this personal touch to your promotion can show you a) remember your real estate buyer leads' situation, needs, and preferences, and b) show your seller clients how you conduct your outreach and go the extra mile to make deals work.
By Residence Style
In addition to the type of homes you work with, segment which residence styles you help buyers purchase and sellers offload. Analyze your past deals to see if any patterns exist in terms of style of homes you've sold recently and altogether throughout your career. If it turns out you have a knack for completing transactions for bungalows or ranch houses instead of larger-style homes, you may have found your (albeit unintentional) calling as an agent.
Cabins and Cottages
Whether you're selling beachside bungalows or log cabins deep in the forest, it takes a special approach to your real estate marketing strategy to aptly promote these properties and drive awareness. The primary reason for purchasing these kinds of residences is for vacation purposes. Second-home sales are on the rebound in recent years thanks to improving economic conditions nationwide, but that doesn't get you off the hook regarding marketing these properties.
If you work in a seaside community, for instance, and represent coastal homes for sale, publicize the advantages of owning a residence right on the water. Even if it's a cold-weather region, discuss the portion of the year when temperatures are highest and when the sun shines brightest to make your listings seem like the haven they can be for buyers.
Cottages in rural, wooded areas can also be marketed in a similar fashion: Emphasize the best times of year to utilize a cottage or cabin away from much of civilization: the quietude and serenity, the ability to enjoy private trail walks, the local bodies of water families can enjoy together. Hiring a real estate photographer to capture these property and community elements can go a long way in spreading awareness of your specialty listings.
Townhomes
One of the most timeless home styles, town houses (in the right neighborhood at least) offer elegant street-line views and an appealing uniformity. However, not everyone can afford these typically high-priced properties. Though it certainly depends on the health of your housing market, townhomes generally sell for a pretty penny. In 2014, for instance, the median sales price for a Manhattan townhome was $3.59 million. Granted, that particular market is expensive all-around, but it highlights the popularity of this particular style.
Promote townhomes in your real estate market by highlighting the luxury benefits they offer in comparison with other home styles. For example, note the entertainment options offered by town house roof-decks. Stage listing photos that show a couple both enjoying a leisurely afternoon reading on the rooftop and another showing them having a get-together with friends up there.
Loft Apartments
Most home buyers hear the words "studio" and shrug, knowing many of these apartments can be cramped. Loft apartments, however, are famous for their high ceilings and relative spaciousness. They've traditionally been marketed as ideal dual work-life options for artists and photographers, but many loft buyers simply enjoy the openness of the home style.
Stage your loft listings to show off the multifunctionality of the space and ease of altering the rooms in just about any fashion. Use a camera to capture 360-degree panoramas of the units and display every detail of them in a single shot. Digital home tours are taking off in a big way, so why not experiment with some of the latest real estate technology and snap some unique shots of your listings?
By Age Group
The average home buyer is a shade above 30 years old, but everyone from this Millennial group all the way up to Baby Boomers are opportune niches to work with. Even the senior market can provide real estate leads worth pursuing. You likely won't find a single, dominant age group in an individual market, but take a look around at how many schools there are and what type of businesses and restaurants are nearby, among other community traits, to accurately gauge which age-based demographic is most prevalent in your market.
The best way to know how to sell to each of these demographics is to create real estate buyers personas for each of them, like ones we created for one of our infographics on how to use content marketing to connect with your clients. Here's a prime example for you to emulate:
Millennials
Generation Y accounted for roughly a third of all home purchases in 2014, the largest percentage of all major home buying demographics, meaning Millennials are not only worth targeting with your real estate marketing plans, but also possibly your best bet for increasing revenue in the long run. A National Association of Home Builders survey found four of the top-10 features this demographic look for in homes for sale relate to energy efficiency.
So, determine what makes your homes "green" and discover how to emphasize those features in your marketing tactics. For instance, if smart water meters and similar energy monitoring systems are built into your listings, make that the main focus of your online promotion. Head to social media, which many Gen Yers use practically 24/7, and link to a page on your real estate website devoted to explaining the importance of eco-friendly components in residences and the specific green features your listings offer.
Generation X
Aside from boosting their savings and paying off debts, buying a home is considered to be one of the most important goals for Gen Xers. Of course, purchasing a home means taking on more debt and using more of their savings, so hitting the right message with your marketing about the value of this investment can make a big difference in your real estate lead generation.
Create a landing page for your website that notes all of the major fiscal benefits that go along with a home purchase to convince prospective Generation X buyers that they can not only afford to pay for a home, but that you have the fiscal knowledge to help them get through the process monetarily unscathed. Show that you know how to help buyers get the best mortgage terms while balancing other life expenses. You may not be a financial consultant, but sharing this information and expertise separates you from competing agents.
Baby Boomers
Older generations tend to focus more of their home needs around comfort — both in the financial sense (for retirement) and the physical sense (residences that are perfect sizes for retirees). The retirement home market is a lucrative one for many real estate agents, so spotlight properties on your website that fit the bill for 60-plus-year-olds and develop an email outreach campaign to alert them of new, appropriate listings that meet their needs. Also, many Boomers want to make their final home purchase in an area where cost of living is low, so if your market is known for being inexpensive, make that the top selling point for your listings.
By Buyer/Seller Type
One of the most popular ways to segment your real estate leads and own a niche is to separate them by buyer type. First-timers require one marketing method (usually an introductory "this-is-how-to-buy-a-home" works best), while foreign buyers need a whole other kind of introduction: one that helps them gain an understanding of your local market's economic status, geography, and culture. Conducting research on each of these niches to understand their motives when buying and selling homes is a must in order to win their business and, in turn, help them transition from one chapter of their lives to the next.
First-Timers
Purchasing a home for the first time is one of the scariest ventures for just about every person. Helping these prospective buyers transform from renters to owners necessitates a delicate touch: one that informs them of what to expect from start to finish during the purchase process, and ensures they get a great deal that won't hamper any of their other finances.
Develop a home buyer's guide for them that explains everything they need to know about working with lenders, appraisers, lawyers, and — of course — you, the agent. Heck, you can even do the same for sellers to make sure they understand the ins and outs of selling their residences as well.
International Buyers
The stresses that accompany moving from one country to another are many … but hiring a real estate agent who knows all about these stresses — and how to alleviate them — can make the relocation a smooth, even enjoyable experience. Assuming you have some background in working with a foreign audience, highlight your proficiencies in this niche area on your website. Branding yourself as "The International Agent" (or a more clever iteration of that name) for your market can be beneficial when international residents search online for agents.
Relocation services typically have a big role in their moves, especially if it's for business reasons and their companies pay for assistance, so make yourself known to those firms and provide them with plenty of examples of your history in finding excellent home fits for foreign folks.
Military Veterans
For many military service members, serving at home or overseas leaves little time to carefully comb over finances and figure out how much house they can afford. Though you can (and should) have things like a mortgage calculator and personal finance tips on your real estate website geared toward all buyers and sellers, target collateral specifically toward military veterans who could use assistance with organizing their money matters and determining how to go about their home purchase.
Guest blog on popular military-related publications and websites to provide insights for veterans, including info on VA loans and how to anticipate future savings and earnings, and their effect on loan terms. Guides like this one from the Consumer Financial Protection Bureau (CFPB) are optimal ones to create for military veterans.
Infomation
:

Vibrant Branding

:

Pismo Beach, CA