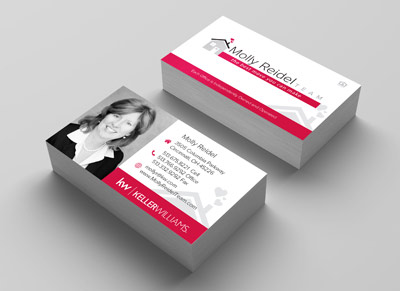 Description
Branding for Real Estate agent. Business card created for Vibrant Branding Agency.
How to Brand Your Real Estate Career
It's time to think outside of the box! In today's real estate market, you need a way to stand out in your real estate agent or broker career. Think of yourself as a brand, and your brand is your image. Building a brand provides people with an easy way to remember you – something to associate with your name. It also serves to build trust with your clients and the community.
Many successful real estate agents and brokers are realizing the importance of creating a brand or image as a way to gain recognition within their local community. One of the most effective ways to do this is to create an identity that serves as a distinction from the competitors in the area. How do you want to be known? Or better yet, what is your value proposition?
You may ask yourself:
Have you sold a large number of homes in one area?
Do you know a specific neighborhood inside and out?
Are you customer service-oriented?
Are you known as being tech savvy?
Do you offer something that your competitors do not?
Think about what separates you from other real estate agents or brokers and build your brand around this concept. It's the same idea as determining your niche. Once you decide on an idea that can make you stand out, you'll want to get it in front of as many people as you can and start building recognition.
The sky's the limit, especially with the prevalence of the Internet.  Put your marketing hat on and determine the best way to get in front of people and be known. Here are some easy, cost-effective ways to brand your real estate career (Remember, the idea is to create a presence in your local community; however, this can also extend further to capture people thinking about moving to your area too):
Logo – You should create an image to go with your brand. It can be anything as simple as using your photo to designing a memorable picture. This logo should be used everywhere that you market yourself – letters, emails, flyers, etc.
Tagline –Maybe you'll become "Mr. or Ms. (Insert City Name Here)" or "(Insert Your Name Here), Your One-Stop Real Estate Source." Whatever you decide, make sure it's catchy and goes with your brand. You should always include your tagline in conjunction with your logo.
Blog – Creating brand awareness, also means putting yourself in front of people. You should create a weekly blog and offer insight, news and tips – anything your clients would find helpful. Add keywords and other SEO techniques to garner traffic to your blog. Increased readership means increased awareness!
Expertise – You are a real estate expert – put your knowledge to good use and create articles for local newspapers or write newsworthy articles. Get yourself out there! In addition to the blog mentioned above, this is an ideal way to offer useful information, while putting your name in front of the public. Contribute to online forums or niche websites as an expert (i.e. Active Rain, Inman, etc.).
Communications – Don't send out your emails, letters or official documents on any old template. Use a personalized approach – with your logo and tagline included – on any of your communications efforts. When people receive something from you, they will instantly recognize your branding.
Promotional Items – Do you know that calendar magnet on your refrigerator or pad of paper in your desk? People keep these items, because they are useful. A magnetic calendar with your contact information or a coffee mug with your logo and tagline are great ways to get your name in front of a prospective or current client.
Customer Service – This is vital to gaining repeat business and positive word-of-mouth. What better way than to be known as providing superior customer service that by doing it on a regular basis? Making sure your clients are happy can pay off tenfold if they use your services again or refer business your way.
Creating brand awareness does not have to be expensive. There are simple and effective steps you can take to keep your real estate career active and stand out from the competition. In any type of market, you should be proactive and separate yourself from other real estate agents or brokers. You worked hard to get your license – effective branding can build recognition and, in turn, your career!  Think of it as an investment in your future.
Infomation
:

Vibrant Branding

:

Pismo Beach, CA