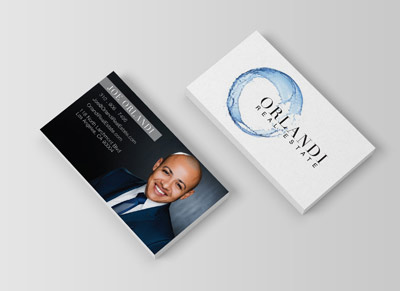 Description
Business card for Real Estate agent at Keller Williams with unique logo. Created for Vibrant Branding Agency.
Branding Yourself As a Real Estate Agent
In today's real estate landscape, there is no room for being another face in the crowd. You may have learned what qualities make you desirable as an estate agent, but you still have to separate yourself from the competition by being more appealing of an estate agent to your target audience. You can achieve that by creating a recognizable personal brand. Here are some 3 ways to go about branding yourself as a real estate agent:
Start thinking of yourself as a brand
Consider your name/business name. What do you want for clients and the general public to associate with you when they think of your name? Is there a specific matter with which you want to be associated as an expert or are there general industry qualities you want linked to yourself and brand? Once you understand how you wish your brand to be perceived, you can start to be much more strategic about your personal brand. This doesn't mean you stop being human. On the contrary, it just means your life and actions will now follow a specific action plan in a natural manner. Ensure your words and deeds reflect the value you want associated with your personal brand. If it is integrity, for instance, your words and deeds must be filled with the quality to the point you could be a household name for the value. A strong personal brand can yield tremendous ROI whether you are working with an agency or as a solo agent.
Associate with other strong brands
They say, "Show me your friend and I'll show you your character". The wisdom of this saying can be applied in the realm of personal branding for real estate agents. Your association with other people (and their attendant brands) could strengthen or weaken the personal brand you're working hard to develop. Find, build and leverage relationships with other people, both in the real estate industry and in others, with strong brands which can help lend some credence to or even elevate your own
Personal brand. You do not necessarily have to look too far to find such people. They could be mates from back in school, colleagues in your agency, professional acquaintances, etc. who have strong brands and recognition you can tap into or who could mentor you in building your own. Even posting on well respected and professional property search website gives you a positive image. So the schools you attended; the clubs (social and professional) you are part of; the fellowships you worship with; the people you work with or have encounters with in the professional domain; just about any social gathering you're part of contains hidden opportunities which you have yet to tap. Consider sending referrals the way of a colleague whose brand you want to be associated with; closing a client together and sharing revenue. You could also submit a guest post to an agency's blog as a way to start an association with their brands.

Facebook to create and share content that is relevant to the image of yourself you're promoting. Let it be consistent across all your social media profiles, both in what you write and in your interactions with other Internet users. Always remember, what you say could make or break the image or brand you've worked so hard to build. Negativity from you in any form will not only damage your brand but could cost you clients and corresponding business as well. Not everyone is creative every day of the year, so like everyone else, you might hit a dry spell in the creativity arena from time to time, not to worry, that is when you can tap into the content of people whose brand or social media message is in line with your own. You could share these to your own friends and followers on social media.Find ways to produce value and be deliberate in what you share
In today's business world, it pays to have a social media profile. Even if you do not use it to share personal content, it is still a great way to engage your clients, both current and potential. Take advantage of platforms like LinkedIn andPersonal Branding is marketing yourself and your career as a brand. Branding on a personal level, as a real estate agent, is becoming just as important as on an agency/business level. People want to work with relatable human beings, not faceless companies, and that's what makes business relationships valuable. Your brand is your story. It is the reputation that will inform your clients what to expect when they work with you. The world is a lot more social now with the numerous avenues our technology provides us for communicating, and so your business could very well survive or collapse based on your personal brand: Landlords will rely on this information to decide whether or not to have you represent their property, and seekers could decide to view a property you represent based on what they have heard about you. A strong brand is what will set you apart from the rest of the competition and translate into more deals closed, meaning more money for you and your company.
Infomation
:

Vibrant Branding

:

Pismo Beach, CA