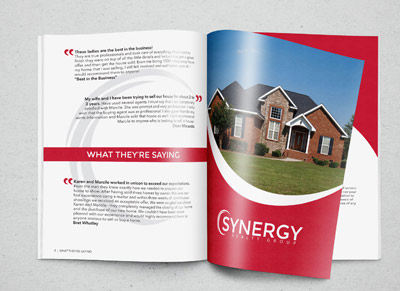 Description
Listing presentation created for realty company at Vibrant Branding Agency.
Listing Presentations that Win Clients – The Ultimate Guide
During your first year as a real estate agent, there's one cliche you will hear over and over again: "Those who list, last."
It's a cliche for a very good reason. Buyers are not only a dime a dozen these days, but they can also drop you like a bad habit after months of hard work. However, if you have a listing, you're pretty much guaranteed a closed deal.
In order get listings, you need to convince a homeowner to hire you instead one of the dozens of other realtors pitching them. That means, above all else, you need a highly persuasive listing presentation. In this article, we walk you through everything you need to give listing presentations that will help you sign more listings, close more deals, and start building a successful career. We cover the following:
What Is a Listing Presentation?
Planning your pitch- what to include in your presentation
Six helpful tips for a successful presentation
What software should you be using?
Examples of listing presentations and software resources
What is a Listing Presentation?
A listing presentation is essentially a job interview for representing the seller in a real estate transaction. Much like a job interview, you need to focus on building trust as well as demonstrating that you are a better fit for the job than any other candidate. A listing presentation can simply be a conversation with a homeowner about why you're best equipped to represent them, but the best prepared agents bring a slide deck, visuals, and/or documents to help make their case.
Another way that listing presentations are like job interviews is that your performance on a listing presentation is far more important than how well you can do the job. If you don't put in the time and effort to learn to pitch homeowners, no amount of sales talent will help you get listings.
Is a Listing Presentation Different from a Comparative Market Analysis (CMA)?
Yes. These are two different things, but a comparative market analysis (CMA) is often part of a listing presentation. A CMA is a well-researched list of comparable, recently sold homes used to determine market value of another home. It's generally used as a tool to show a homeowner how much their home is worth during or after a listing presentation.
Planning Your Pitch: What to Include in Your Presentation
Now that you understand what a listing presentation and why it's important, it's time to sit down and gather your materials and write your listing presentation.
Whatever format you use, a general rule of thumb is to first briefly talk about your experience and skills, then your team and brokerage's experience and skills. After that, discussing the state of the local market would be helpful. Then, you should talk about good marketing in general and provide a specific marketing plan for the homeowner's house. Finally, you can discuss your comparative market analysis (CMA) and talk about pricing strategy for the home, as well as your recommendation for pricing.
Let's go through it step by step.
1. Your Introduction
Since your homeowner may be as anxious as you and a whole lot more curious, be sure to start your presentation with brief introduction. Quickly go over what your listing presentation will include, what you plan on teaching them, and what you hope to learn from them during the course of the presentation. You should also include a very brief introduction of you and your business.
This is also a great opportunity to give the homeowner an out. One of the biggest fears any rational person will have after inviting a salesperson into their home is that they'll never shut up, and they're going to be stuck in an awkward, aggressive pitch for hours. You need to dispel this notion right away to put them at ease.
Remind them this is a dialogue – they can (and should) ask questions
At the end of the day you want to open up a dialogue with the homeowner. Instead of having them sit back and keep their questions and concerns to themselves, you want to actively encourage them to involve themselves in the presentation. This not only makes your presentation a lot less boring, but it also gives you a chance to address their objections directly.
2. Get to Know Your Homeowner Better
After your introduction, you should take a few minutes to get to know your homeowner a little bit better. This not only helps put them at ease, but will help determine how the rest of your pitch will go.
Here are some questions you can ask your homeowner to get a sense of their background and how to tailor your pitch:
When do you need to move by?
Why are you moving?
Where are you moving to?
Have you already found a home there?
Is getting a good price or timing more important for you?
What will you do if your home doesn't sell?
What are you looking for in a listing agent?
How much is left on your mortgage?
Are there any liens on the property?
Are there any issues with the home that we won't see today?
All of these questions will help you get a sense of how motivated the clients are to sell their home, and more importantly, the price they need or expect to get for their home. For example, if someone already made an offer on a home in another location, they might need to sell their current home quickly. You can use this information when you explain how it will take much longer to sell their home if it's priced too high.
Depending on how you got the lead, you may have some or all of this information already. If you do, it couldn't hurt to confirm it or try to get more details during your listing presentation.
3. An Introduction to You or Your Team
The next stage of your listing presentation should focus on you and/or your team. What makes you qualified to sell their home? In order to demonstrate your value add here, you can talk about your success in the local market, any additional training or certifications you may have, as well as an introduction to other members of your team.
If you're a new broker, you should instead focus on your marketing or tech savvy, or anything in your previous career that might help you sell houses. For example, if you worked in advertising, you can highlight your skills in creating great ads. If you have photography skills, you can show a few examples from your portfolio.
4. An Introduction to Your Brokerage
Next you can include a quick pitch for your brokerage. What does your brokerage offer that others in the area don't? Why would signing with someone who works at your brokerage be an advantage? Every good brokerage will have at least a quick description of their benefits for homeowners.
If you're with a larger brokerage, like ReMax or Keller Williams, then you'll want to focus on numbers (e.g. amount of homes your brokerage sold in the last year and median home sale price). However, if you work at a smaller boutique brokerage, you'll want to stress things like personalized service. With a smaller brokerage, your client won't be just another file. You'll be able to provide personalized attention.
5. Local Market Data
Next, you might want to include some local market data that shows historic trends, how quickly homes are selling, or anything else that would be useful for your homeowner to understand how you will arrive at a price for their home. Charts and graphs are especially useful here.
Here are some ideas of local market data you might want to include in your presentation.
Months of supply
Historic pricing trends (e.g median sales price over the last ten years)
Median price by season
Number of sales by season
Annual sales
6. An Explanation of How the Sales Process Works
An explanation of how the sales process works can be extremely useful, especially for first time sellers. You can focus on explaining dual agency, inspections, appraisals, negotiations, and the value that realtors add for homeowners. Unless they're relatively new to the sales process, I wouldn't go into too much detail here, but remember you can always do this quickly and mention you will leave behind more information they can look at once you leave.
7. Marketing Strategy
The next area you should focus on is marketing. For most realtors, this will be the most important section of the listing presentation. After all, great marketing and sales skills are what sells houses. Generally speaking, it makes sense to focus on what marketing skills and tools you can bring to the table, as well as how you can apply them to their home. Here are some areas you can focus on:
Your Website
Whether you have your own IDX enable website or use your brokerage's website, your online presence will be a big selling point for most homeowners. You can discuss how many visitors your site gets, how well designed and sales oriented your site is. Emphasize if you use IDX, which allows their listing to not only be featured on your sites, but on the sites of dozens of brokers with IDX websites as well.
If you have examples of single property websites you've built for other listings, you can highlight those as well.
Photography
Without great pictures, client listings aren't going to get many clicks on your website or on Zillow. In order to put your homeowner at ease, you should explain how professional photography helps sell homes faster. In order to underscore your point, you should include examples of great photography from your previous listings. Even better, you can provide before and after comparisons of a listing with amateur pictures to one with professional pictures. Ask them which they'd rather go look at if they were looking for a new home. Read our in-depth guide to real estate photography for more tips.
Zillow Premier Agent
If you're a Zillow Premier Agent, then you can explain to them how much this will benefit their listing. Since you will be the expert on their home, you can explain that having leads contact you first will lead to more showings. After all, if a buyer's agent gets the lead, they might steer them toward one of their own listings.
Zillow Premier Agent won't only help you close seller leads, it will help you get more buyer leads as well.
Staging and Virtual Staging
If their home will be vacant at any point of the sales process, you can explain the benefits of staging and virtual staging. If you have experience with staging or virtual staging, try to include before and after pictures of empty homes which were then staged or virtually staged. In many cases, a few good pictures will explain the benefit better than anything you can say.
Cutting Edge Marketing ideas: Matterport, Drone Photography Etc.
If you think your homeowner will respond well to new technology (e.g. they are young or live in an urban area), you can also do a quick description of the benefits of Matterport 3d walkthroughs and drone photography. Even if you have no experience using them for other listings, adding this kind of content to your listing presentation will usually impress. If you use something like TouchCMA to deliver your listing presentation, you can include drone videos and Matterport walkthroughs right in your presentation for an extra wow factor.
The MLS
A quick overview of how your local MLS works can be helpful as well. You should explain how their listing will be available for buyer's agents to show to their clients. If they're first time sellers, or FSBO leads, you can also explain how they won't be able to add their listing to the MLS on their own.
8. Case Studies
Case studies of other homes you or your team have sold can be extremely effective marketing tools. If you can, try to use listings that are comparable to the homeowner's. For example, if they were trying to sell their home on their own, include examples of FSBO listings before and after you got the listing. Focus on improvements in marketing as well as the numbers. For example, you can focus on improvements in photography, staging or virtual staging, marketing etc.
9. Pricing Strategy
The penultimate stage of a listing presentation generally focuses on pricing strategy. You can use this as an opportunity to explain how pricing their home right the first time may save them money in the long run, how square footage, updates, number of bedrooms affect local pricing (be specific as possible here), as well as how you think their home fits in with the current market.
10. Next Steps – Schedule a Time to Present Your CMA
If this is your first time in a prospective client's home, then most agents recommend holding off on the CMA until you've toured the home. Assessing value can be very difficult if you've never seen the place in person, or if you discover the home has tax liens, structural damage etc. When you talk about pricing, you can mention these kinds of issues and ask if they have anything you don't know about that may affect the value of their home.
If they insist on getting your opinion on pricing, you can show them any preliminary research you've done as well as how anything you've learned on your listing presentation may affect price.
If you have already toured the home and know about its quirks, then you should present your CMA. You should explain how and why you picked your comps, as well as how you arrived at the price for their home.
Helpful Tips for a Successful Presentation
Now that you know what you include in your listing presentation, we have a few tips for you on how to make your pitch. What's in your listing presentation is going to vary based on your experience, market, and the client. However, no one likes to be aggressively sold to, especially not in their own dining room. That's why, before you even sit down to gather your materials and write your pitch, you should understand some basics of pitching.
Focus on Your Client's Needs, Not How Great You Are
No matter how great your mom thinks you are or how many sales awards you've won, clients today are only interested in one thing: WIIFM (What's In It For Me?). If I had to pick one thing for all real estate agents on earth to remember, this would be it.
Of course, you will use a part of your listing presentation to explain why you're the perfect agent for the job, but remember to always emphasize why your skills, experience, and accolades will help them get a better price for their home.
Plan for Flexibility
This is related to the first tip, WIIFM. Every homeowner is different, and you need to tailor your listing presentations accordingly. You need to write your listing presentation to be flexible enough to either go into more detail or skip certain sections. For example, if your homeowner is tech savvy, then you should spend more time discussing your website's IDX integration, lead capture and anything else tech related. However, if they're retired and don't know a landing page from sailboat, you might want to spend much less time going over techy things.
In order to please both the tech savvy and non-tech savvy homeowner, you can write an in-depth pitch and one that just hits the bullet points. If you do end up glossing over sections of your presentation, always remind them that you will leave behind more details if they get curious later. They may show your leave behind to a tech savvy relative or coworker.
Use Emotion First, Logic Second
"People will forget what you said, people will forget what you did, but people will never forget how you made them feel." -Nobel Laureate Maya Angelou
While this might seem like a vague platitude, it's actually a tried and true sales tactic that you need to keep in mind when planning your listing presentation. According to Harvard Business School Professor Gerald Zaltman, we make up to 95% of our purchasing decisions subconsciously. Think about the last smartphone or tablet you bought. Chances are your decision was made based primarily on emotional reasoning rather than logical reasoning. Even if you have a laundry list of logical reasons for making your choice, psychologists say that these are often just justifications for an emotional decision you've already made subconsciously.
Knowledge = Confidence
One of the biggest misconceptions people have of successful real estate agents is that they're all naturally confident. This is simply not true. I know quite a few very successful agents who are actually a bit shy. You don't really have to be a "people person" to succeed in real estate. What you do need is confidence.
One of the only ways to be truly confident as an agent is to know the market inside and out, constantly learn new skills on sites like ours, and dedicate a portion of every day to practicing and perfecting your craft. If you already know you've put in the time and effort, confidence follows.
Don't Rely Too Heavily on Visuals
Software that helps you illustrate your point with visuals, like CMA Software, can be very helpful during your listing presentation. We even ranked TouchCMA as the best CMA software agents can buy today. Your homeowner is going to love it.
However, you should stay extremely cautious of over relying on your visuals to tell your story. For most of the homeowners you're going to be pitching, this would be a huge mistake. Remember rule number one. People remember how you made them feel. Someone silently swiping through pages on an iPad probably won't leave much of an impression.
Practice, Practice, Practice
In order to get good at something you need to practice. In order to get great at something you need to practice a lot. Since you need to be great at giving listing presentations, you need to practice a lot. Role-playing with a coworker is a great way to bring your listing presentation off your laptop and into reality. You may be surprised to find that lines that sounded great in your head fall flat with other people.
The Bottom Line
Preparing a great listing presentation can be a challenge, but once you know the rules of pitching as well as the right content to include the only thing left to do is to practice and go out and land listings.
Infomation
:

Vibrant Branding

:

Pismo Beach, CA