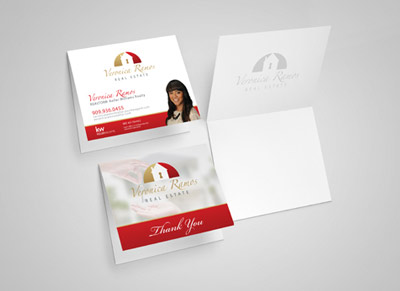 Description
Note Card/Stationery for Realtor, created for Vibrant Branding Agency.
Thank You Note Wording Ideas
Many people underestimate the power of a simple handwritten thank you card. These days it seems easier to send a quick email, text message or make a phone call, but a handwritten thank you note says more. Sending a handwritten thank you note says that you went out of your way to sit down and write a special message to someone who deserves it. Sentiments that are personalized for the recipient truly have the power to make someone's day better while elevating your appreciation for someone's help, gift, or kind gesture. Sending custom thank you cards to your family and friends is the perfect way to express your gratitude on a deeper level for just about any occasion.
Sometimes it can be difficult to put our thoughts on paper. We've all struggled at times to find the right words to say when thanking family, friends, or associates. Although, one thing that we can remember is that everyone desires to make a lasting impression. No matter how hard it may seem to get started, if you use these easy step-by-step instructions you'll be a professional at crafting your thank you notes in no time. Since this article about what to write in thank you note has a lot of information, you can jump to specific information below:
What to write in a thank you card
Short thank you phrases
Thank you messages for gifts
Thank you messages for services

I am continuously surprised by your ability to outdo yourself with gifts. You are amazing.
Thanks for being the type of person who picks out excellent gifts for me!
How in the world did you know exactly what I needed yet never asked you for?
I appreciate your gift-giving skills. I am sure that you get a lot of practice, being as generous as you are.
I wish to give you so much more than just a thank you note for the beautiful gift you gave me. I absolutely love it. But as for now, thank you.
Just wanted you to know that I really appreciate all the trouble you took to get me such a wonderful gift. Thanks a ton.
Many sincere thanks go to you for such a thoughtful gift. I can tell that you truly enjoy giving to others.
Thank you so much for sending me such a lovely and meaningful gift on this special day. Your gift made today even more special. Thanks a ton.
You made my birthday a special day. Thanks for your thoughtful gift.
Thank you for being a great friend and for being so thoughtful with the Christmas gift.
Thank you for supporting us in our celebration. We really appreciate your generous gift.
You made me feel so special when I opened your gift. I knew that you spent time, effort, and energy to make sure it was awesome, and it was just that. Thank you.
Perfect is the word that comes to mind when I try to describe your gift. I don't think I myself even could have gifted anything better. Thanks for knowing me so well.
Thanks for the wonderful gift. I really loved it. I appreciate your thoughtfulness.

Thank you!
Thank you so much!
Thanks for helping me.
Thanks a bunch!
Thanks a million!
Thanks a ton.
Thanks for everything!
Thanks for taking the time to think of me.
I can't thank you enough
I owe you one.
I will be forever grateful.
I thank you from the bottom of my heart
I am much obliged.
I am so thankful for you.
I was so pleased.
I am moved by your thoughts and actions!
I wanted to thank you as soon as I could!
I appreciate it!
I appreciate it so very much.
I greatly appreciate it.
Words are powerless to express my gratitude.
Words are not enough to express my thanks.
Please accept my best thanks!
Please accept my sincere thanks.
All my love and thanks to you.
You're too kind!
You shouldn't have.In ordinary life we hardly realize that we receive a great deal more than we give, and that it is only with gratitude that life becomes rich. Thank you for everything.


What To Write In A Thank You Note

You can simplify your thank you card writing process by sticking to a few core rules and tips that add clarity. Since you'll want to craft the perfect note of gratitude, always assess your relationship with the recipient to guide your wording. Follow steps one through six below if you're having trouble deciding what to write in a thank you note:

Open your card with a greeting that addresses your card recipient. "Dear," is a safe standby greeting that is commonly used for notes and cards. If you have a closer relationship with your card recipient  you may decide to just use the recipient's name or even a nickname. One thing to make sure of here, is that you're using the correct form and spelling of the person's name and anyone else's names you might be using in your thank you message.
Write a thank you message to express your gratitude. Next, it's your chance to say what are arguably the two most important words in the card: thank you. You'll want to make sure your thanks makes an appearance at the beginning of any thank you message.  Although it seems like two short words, there are many different ways to say thanks. When trying to find the perfect words, just keep in mind whom it is you are speaking to and use your own personal style to guide your selection.
Add specific details to your thank you card. To make each thank you note a one-of-a-kind, it's important that you add specific detail to your thanks. What exactly is it that you are thanking this person for? Did they do something more, something that specifically made you feel special? If so, include that in the note. There are a lot of occasions that deserve a special thanks. Like we said before, people love to feel appreciated and remember that they might not even know that they made a special impact on you until you thank them for it. If they gave you a gift, now would be a good time to describe how you're going to use it. If they threw you a party, tell them what your favorite part was. If you are close with the card recipient, you can include inside jokes, or anything special that the two of you share. Crafting a sincere and heartfelt thank you card message is all about personalization.
Write a forward looking statement. Mention the next time that you may see them, inquire about something going on in their life or just let them know that they are in your thoughts.
Reiterate your thanks. As you begin to close your thank you card, restate your reason for writing the note. Add details to say thanks in a different way. This also serves as a great way to signal that your thank you note is coming to an end.
End with your regards. The sign off you select will depend on your relationship with the recipient. For more formal thank you letters like a post interview thank you note or a letter for your boss, select a professional closing. If you are crafting a more personal message for your wedding thank you notes or bridal shower thank you cards, you might select a warmer closing.

Thank you notes are appropriate after many different occasions. Anyone who throws a party, gives a gift or takes time to do something for you deserves to be appreciated. If someone went out of their way for you it's nice of you to acknowledge it. There is no event, action or occasion that doesn't deserve a thanks. Your thank you messages don't have to be two pages long, short and sweet will do the trick.

We all appreciate our actions getting noticed, especially when we did something nice for someone. These thank you card templates and examples for various occasions should leave you with zero questions on what to say in a thank you card and will give you some ideas for proper appreciation.

Short Thank You Phrases

Find general thank you phrases and samples below to use in your greeting cards or thank you notes. These short thank you card phrases will help you get your thank you card messages underway:

Thank You Messages For Gifts

It is common to send thank you messages for gifts that you receive no matter what the occasion or event may be. Whether a birthday party, a bridal shower or going away party, you can use one of the messages below to show your gratitude for the gift you received. Opt for picking out one sentiment on it's own or pair two or three together to complete your  message with the most appropriate thank you card wording.

Thank You Messages For Services

Another common reason to thank someone is for something that they have done for you whether it's an experience or something intangible. There are many instances in life where people close to you or even complete strangers do something that made you feel good or helped you in someway. Sometimes we have a tendency to take these things for granted when really, it's these moments that deserve a whole lot of appreciation. Whether it was a ride to the train station, giving forgiveness or simply making an ordinary moment extraordinary, the people in your life should be reminded of what they mean to you. Refer to these thank you note messages for inspiration:

Thank you for your help. Please accept this card as a symbol of my sincere gratitude for everything you've done.
The gift of your help/time/support means more than anything money can buy. I really appreciate all that you've done and hope this card provides a small token of my gratitude. Thanks!
You are a rare kind of generous. I'm having a hard time putting my gratitude into words but I hope you know how much I appreciate all of your help. Thank you so much.
You have given me the gift of encouragement and hope in a difficult time. I am so grateful for your support. Thanks for being there for me.
I was so touched by all the support you've given me. Lunch is on me next time. Thank you!
Thank you for always being my best supporter!
Thank you for celebrating all of the exciting moments of life with me. I can't imagine not having you in my wedding or by my side when I hold a little human in my arms.
Thank you for all that you've taught me.
Thank you for making so many ordinary moments, extraordinary.
Thank you for reminding me to stay true to myself.
Thank you for thinking of me as often as you do.
When it is just not possible to do it, you just do it and make it happen. Wow!
I wanted to thank you but then I realized I don't know where to begin. So, I just wanted to say that there are so many things I couldn't have done without you.
The more time I spent with you I realized what a wonderful person you are! I thank you for everything you have done for me.
A big hug and lots of thanks for my friend.
Infomation
:

Vibrant Branding

:

Pismo Beach, CA