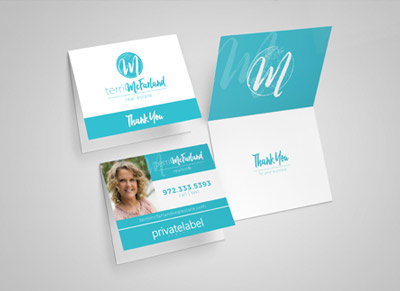 Description
Thank you card design for real estate, created for Vibrant Branding Agency.
Thank-You Messages: What to Write in a Thank-You Card
You know that wonderful, warm-fuzzy feeling that comes over you when someone goes out of his or her way to spoil you, feed you, treat you, welcome you, bless you, support you or help you out? Of course you do. The feeling is gratitude, and it feels even better when you express it!
A handwritten card or note of thanks is one of the most heartfelt and meaningful ways to express gratitude. Maybe you can't repay your recipient for the nice thing he or she has done, but you can reflect the thoughtfulness with the time and care you put into writing and sending a warm, gracious thank-you card or note.
If you need a little help getting beyond, "Thanks so much…," you're in the right place. Our "What to Write in a Thank-You Card" guide is full of thank-you-writing inspiration and message ideas from Hallmark writers. Whether you read the whole guide or skip to your specific thank-you situation, we hope it adds to the feel-good factor of putting your thanks in writing.
Infomation
:

Vibrant Branding

:

Pismo Beach, CA