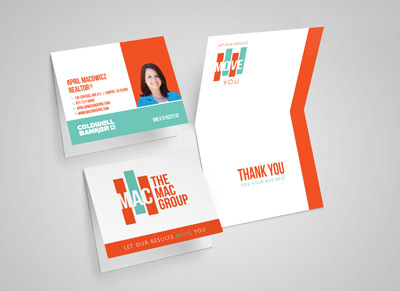 Description
Stationery design for Real Estate Agent. Created for Vibrant Branding Agency.
Thank You Card Etiquette
There are no hard and fast rules concerning how to write the perfect thank you note. Although, there are a few tips you can keep in mind when preparing and drafting your messages that will help you along the way. Follow our thank you card etiquette guidelines to answer common questions you may run into during your writing process:
Timing is everything. Be prompt with sending your thanks preferably within a week's time. The quicker that you send your thank you notes out the better. Although, if it has taken you awhile to get to writing your notes make sure that you still get them in the mail. A thank you sent anytime is always nicer than none at all.
Hand write your thank you notes using blue or black ink and write legibly. Make sure that your card recipient can read your gratitude-filled message.
Use appropriate thank you card wording. Depending on the occasion, event or gesture you'll want to make sure that you're selecting appropriate words and using the right language. We have something for every style and recipient whether you are trying to find baby shower thank you card wording, or find yourself stuck on what to write in a bridal shower thank you card or need inspiration for graduation thank you card messages.
Get creative with your messages and write from the heart. You can also add a few thank you quotes or select a photo thank you card to provide deeper meaning or a visual. Only you know how you feel and what the proper way to express that may be.
Now that you've got your message figured out, finish off your thanks with an envelope even the postman will find impressive. Select matching address labels and custom postage to assure your thank you's get signed, sealed and delivered in style.
There's no need to have a hard time writing thank you cards anymore with our templates and wording ideas. If you need a little added motivation for putting the pen to paper, pick out custom stationery that you really love. No matter what the occasion, make sure to show your appreciation with a handwritten thank you note.
Infomation
:

Vibrant Branding

:

Pismo Beach, CA