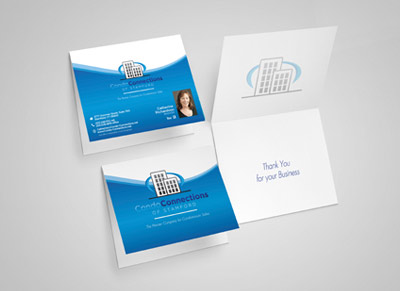 Description
Thank you card stationery for realtor at Vibrant Branding Agency.
Modern Etiquette: Thank You Dos and Dont's + 10 Cute Thank You Cards
The Big Picture: I think, at its core, giving thanks for something you've received, whether it's an object, an experience or something intangible like forgiveness or support, is something that just needs to be done, period. The form, timing and details are rarely as important as the simple act of saying thank you. I've found I most often get tripped up on trying to make things perfect, when I should just stick to the simple "Thank You" and get the message out. So when in doubt, a simple thank you in any form is the best thing you can do to show your appreciation. My notes below are about finding creative, timely or most effective ways to say thanks, but the bottom line is this: Just say thank you. The person receiving the thanks will just be happy to hear it, the mode and message are rarely as important as the simple act of acknowledging someone's kindness.
Tips to Remember:
1. Timing: I think the most important thing about saying thank you is doing it in a timely manner. Of course a thank you at any time is better than none at all, but I find I'm more likely to give thanks if I do it quickly and succinctly. No matter the size of the gift/support, a simple thank you sent within a few days of the event or gift you've received is always best. The one exception seems to be weddings, in which case it's generally accepted that if you send the thank yous within a few months of the wedding date, you're ok. But I think for everyday thank yous, a few days later (not counting mail delivery, of course) is ideal. It lets someone know you took the time to sit down and acknowledge their kindness and that their efforts weren't forgotten right away.
2. Message: I think a lot of the time, people get hung up on WHAT to say in a thank you and end up not sending one. But honestly, something simple is always best. Yes, it's lovely to get something long and details and meaningful, but a simple thank you that mentions the thing you're thankful for is always enough. For example, if someone gave you a bouquet of flowers:
Dear Carol,
Thank you so much for the beautiful bouquet of roses. They were so thoughtful and look gorgeous on our dining room table. We hope to see you again soon!
Love,
Grace
Or if someone gives gave you some support when you most needed it:

Dear Henry,
Thank you so much for your help last week. It meant so much to have your support during this tough time.
Best,
Grace
You don't need to pour your heart out if the words are thoughtful and to the point. People will appreciate that you took the moment to appreciate their efforts, period.
3. Type of Message: Here's the rub– people often feel that a BIG gift demands a BIG thank you. I don't agree. I think it's more important to simply say thank you in a timely manner than to make a big showy display of thanks. That said, I think there are some things to consider, depending on the gift type and the timing.
Text messages: I think a text message is a nice, informal way to thank someone for something slightly less specific or more about a general thank you for overall support. For example:
Hi Jenny- Thanks so much for having me over for dinner. It was great to catch up over pizza and relax. See you next week, Grace.
or
Hi Jenny- I was just thinking about you and wanted to say thanks for always being such a great friend. I'm so lucky to have you in my life. xo, Grace
Emails: I think emails are similar to text messages, but are a great place to go into a bit more detail. If you want to call out the specifics of a gift or event, this is a nice way to do that. It's also a nice way to say thank you for a slightly younger generation that is more used to using email for everything than say, your grandparents. Though if your grandparents are using email on a regular basis you might want to send them a virtual high-five for being so connected and awesome. I think it's good to note that emails are a nice way to say thank you to someone you don't know well enough to ask for an address or contact info. For example, if you love an article you read in your local paper, writing them an email to say thank you or 'good job' might make more sense than emailing them to get an address and THEN sending a note.
Hand-written notes: I think of these as the most formal way to say thank you. Not because writing is necessarily formal, but it feels like the most traditional way to be appreciative and acknowledge something. Notes are my go-to for financial gifts, holiday or birthday gifts and anything related to work and family. Though they clearly work for anyone in your life, I think notes tend to imply you know someone well enough to have their address and say thank you. Here are a few things to keep in mind:
If your hand-writing isn't legible (so many of us suffer from this thanks to years of typing over hand-writing), perhaps consider a different method of thank you.
If the gift was meant for multiple people, it's lovely to write the note from several people and have them all sign it. Coming from one person can often seem like they are the only ones who remembered to say thank you.
Consider the recipient: If you're thanking your new in-laws and only have a sarcastic or funny card better suited for close friends left over, try using a blank card instead.
Make sure you spell everyone's names correctly
Include the entire family in the thank you if it's a gift from everyone. Even if you know the gift shopping was done by say, your Dad, if the gift was from your entire family on the card, thank everyone.
4. Extras to Include (Ways to Bump Your Thank You Up A Notch): I love getting a thank you that feels personalized, decorated or like it has a little something special. Here are ways to bump up your thank you a bit:
Decorate the envelope or package with hand-drawings, stamps or appropriate details for the recipient. We use everything from washi tape and neon packing tape to old magazine clippings and fabrics to decorate thank yous at the office.
Include a picture of the gift being used. If someone sent your new puppy a sweater, including a photo of the item in use is always a crowd-pleaser.
If a thank you note isn't enough, consider sending flowers, a baked good or an appropriate extra gift. But be sure to note the pitfalls of gift-giving below if you're sending someone another gift to follow their gift.
5. Things to Remember and Avoid:
Spell-check. Make sure you spell everyone's name correctly.
Rudeness: You'd think it goes without saying, but sometimes people can use thank yous as a way to be passive aggressive about not liking a gift. If you don't like it, leave that thought to yourself- notes are about thanking the gesture, not the specifics. (Unless it's an offensive gift, etc.) If someone sent you a green sweater and you'd prefer pink, this is not the time to say "Thanks so much for the sweater. I haven't worn green since I was little, but thanks anyway". I've seen that done before, so it's worth nothing that that's not the best way to truly thank someone.
Don't OVER thank: If someone treats you to coffee, sending them a few dozen roses to say thank you might be overkill. And it can potentially make them feel uncomfortable or feel like they now need to thank you and start the vicious cycle of "Thank you", "No, thank YOU" that can happen. Keep the level of the thank you near the level of kindness you received. It's about making the recipient feel appreciated, but not like they now owe you something in return.
Thank you gifts should be appropriate and not about promoting. I've found that if someone is a maker or has done something (like written a book or a magazine, etc.) they often send out their leftover stock as a thank you. Not that receiving someone's handmade work isn't nice, but if what you produce has nothing to do with them or isn't appropriate for them, perhaps think of just sending a note or something more neutral like flowers, baked goods, or a product that means something to them (or that you've heard them mention that they like). Someone once sent a friend of mine a baby onesie they make and sell as a thank you, even though she didn't have children. When it came up later on, she told the friend, "Well, I figured you'd know someone you could give it to." Thank you gifts should be something the intended recipient can enjoy.
The bottom line is this: Saying thank you in any form is better than saying nothing at all. While the world won't end if you DON'T say thank you, the best way to keep and maintain friendships and good work relationships is to acknowledge the kindness someone has shown you.
Infomation
:

Vibrant Branding

:

Pismo Beach, CA