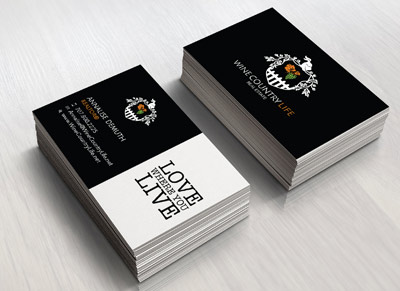 Description
Real Estate Agent designs. Business card created for Vibrant Branding Agency.
Personal Branding for Real Estate Agents
I know quite a few real estate agents. All of them are unique in their own way. How they handle clients, their personality, and their personal branding all factor into the type of client they attract. The clients that use these real estate agents, were a perfect match!
The competition is fierce with real estate agents, there are a ton of them in each city all with varying levels of ambition. Some are hobbyists who like to do 10 deals a year then there are the hustlers who want to make as much money as possible. For those of you who hustle and want an edge over your colleagues, personal branding is for you.
You are already branding yourself
You may not know it but right now, this instant you are already branding yourself. From the clothes you wear, the perfume/cologne you use, your approach to each deal, the processes you have in place are shaping your brand.
How can I brand myself while being regulated?
This is a question I hear often. Most real estate offices allow their agents to brand themselves. They might have some stipulations and I encourage you to ask the owner what the rules are. I've worked with many real estate agents and in my experience, their office has been pretty accommodating to their needs. The office might want some fine print placed on your print materials, plus their logo. In most cases, you should be good to personally brand yourself.
What about Realtor® and other associations?
Any other governing body you are associated with may also have rules and guidelines. Realtor® may have some new guidelines on what you can say in your branding & marketing materials. Again, I see plenty of Agents that are able to work within the system while branding themselves. It is important that you read through them before you begin branding yourself.
Where to start – you
Creating a personal brand for real estate agents starts with you. You need to be true to yourself. Being honest and authentic is a perfect place to start. You can't build a personal brand if you are not comfortable with yourself. Start by defining your WHY is a great start to any branding.
Image comes next
Once you have become comfortable with yourself and know your WHY, it's time to look at your image. I'm not talking about your clothing. But if you want help with your fashion, there is an amazing woman I know who specializes in style – Lazina McKenzie of L Squared Style.  I've personally met her and have seen the transformations she has done. She is really good at what she does.
Your image makes a statement. It explains who you are and how you do it is a split second. That client will instantly know if you are professional, if you know your stuff, how good you are at closing deals, how serious you are at helping them…the list goes on.
Where does your image start? It starts with your logo
I believe all real estate agents should have a personal logo. It can be as simple as a monogram to something completely conceptual. Having a logo will set you apart from your colleagues. A logo identifies you from the crowd. As you build your brand, that icon will become the catalyst to your brand. First impressions are important to a client. If you go into a consult with a complete brand, you have a better chance of closing that client, than someone who does nothing.
Your Website
Once you have a logo created, you need to apply your brand to your website. Many real estate agents use one of three real estate agent website solutions. That is ok. You can work with this platform but it will require you to do some legwork. You will need to communicate with the staff of your web hosting company to make sure your logo, colours and messaging are executed perfectly. Your brand message needs to be strong. Your imagery needs to work cohesively with your brand. All elements from colours, fonts and placement of content are important. Do not compromise. Your brand message is important.
It will take some time and patience on your part, working with your web company but hang in there. You are paying a ton of money each month to have this website, so it needs to work for you. Just remember, they are there to help you. Not the other way around.
Now, if you happen to have a custom solution made, even better. You are free to do what you want without limitations. Talk with your web developer/designer to make sure your brand is being well communicated.
Let's look at your marketing materials.
Cohesiveness is what creates impact. All your print materials – presentation folders, brochures, Sell Sheets, email newsletter, postcards, vehicle wrap, promotional items – matter. Using the generic folders given to you by your office is ok, but it can be better. Perception is everything. Don't compromise. If your brand is important to you, make the decision to have everything redesigned to match your brand.
The little things
Here is where your brand can really stand out. I always preach to my clients about the little things. These tiny changes may seem like nothing at first but they go a long way over time.
Think about your perfume or cologne. Scent can play a major role in branding. The type of scent you use can create memories in clients. Take for instance baked bread. What memory comes to mind right away? Every time I smell baked bread, I think of my Baba in her farmhouse making fresh buns. A very happy moment of my youth. Scent can be a powerful trigger. So choose it wisely.
Engaging with your client. How do you address every client meeting? How about after the transaction is done? Little things like sending them an email with an intro video explaining what it's like working with you is a great way to build your brand.
Texting your clients on their birthdays, anniversaries or other important dates in their lives, is another way to set yourself apart. This little gesture of kindness makes a lasting impression on people. You can brighten their day with a simple text or phone call.
Personalizing letters with your actual handwriting is another way to build your brand. Canned messages are garbage. Get personal.
Look at personalized gifts that scream You. Quit giving out gift cards for coffee. Think bigger and better. Why not personalized coffee mugs with your logo on it? Notebooks that have your logo on it? Or find a unique swag item that no one else is giving away? Look at the daily lives of your clients. What could they use? What could be utilized daily and not placed in the back of a cupboard? If you have a slogan, are there unique ways of spinning that slogan into a promotional gift? It can be corny or heartwarming. Spend some time looking at your brand message. Find a new spin on gifts.
When you write your listings on MLS, do you have a unique way of talking? Can that be applied to the writing style of your listing? Can you create a unique way of delivering video walk through of the house? Is your logo in the intro and outro of each video?
A cool idea I saw once was an agent who created feature cards for his listings. He would tell his clients to place these cards at the entrance of each room. His logo and details of each room were listed on the cards. So every time there was a showing, the potential buyer had info of each space within the house. Not only did it build his brand awareness, but it added value to his client and helped the buyer make a better buying decision.
Invest your money wisely
There are many specialized companies who cater to real estate agents. Some offer great services and products and well there are others that are just looking to make a quick buck. Before you go tossing money at these companies, think of your brand. IS what they are offering good for your brand? Will it enhance your presence? Can  they take you to the next level in brand awareness? Don't get caught up in quick buying decisions. Take your time and do it right. The last thing you want is to fork over another 5 figures to someone else because the first company screwed it up.
Time to take action
There is so much potential for you to stand out from other real estate agents. It pains me to see how many agents don't invest in their personal brand. The ones that have invested in their personal brand are absolutely killing it! They are being noticed. They are attracting the type of clients they dreamed about. And it shows. They can be inspiring to you.
Infomation
:

Vibrant Branding

:

Pismo Beach, CA