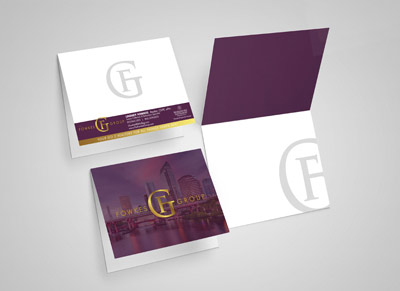 Description
Card design for real estate company, created for Vibrant Branding Agency.
How to Write a Great Customer Thank-You Note
The ROI of thank-you notes
The little things that create a "wow factor" for your customers are worth the investment several times over.
Thank-you card do's and don'ts
Here are a few reminders to ensure your efforts reap the most positive response possible:
Don't use red pen! It's the equivalent of sending a "shouting" email in ALL CAPS. Blue or black ink is ideal. But if you're a purple glitter gel pen kind of person … well, your sparkly message will probably make your customer smile.
Do use note cards or stationery that reflect your business. If you're a vet clinic, keep it playful with paw-printed cards. If you're an architectural firm, reflect your image with minimalist, artful cards. A postcard does the trick, too.
Don't make excuses for your handwriting!

"Good" penmanship is overrated — as long as your note is legible, that's what matters. Your handwriting is unique, which makes a personal note feel even more special and "real" to the recipient.

Do respond in a timely fashion. It's called "snail mail" for a reason, but it's best not to wait so long that your customer forgets having done the thing you're thanking them for.
Don't include anything overly business-y or self-promotional, like coupons or business cards — the point here is to convey genuine gratitude, not to promote your business (that happens as a natural side effect). Stickers are A-OK, though.
Do showcase your company's personality! If smiley faces and emoticons (or cat doodles, or a crayon drawing from your kid, or …) are in line with your brand, by all means, have at 'em.
Do include a little something extra when the situation merits it! Send a token of appreciation along with your note. Depending on the occasion, we send a book, stickers, a T-shirt or even baked goods.
Don't be tempted to mimic Someecards' witticisms in the content of your card. In case you're not familiar, their e-cards have zinging one-liners we often think but aren't supposed to say out loud, such as:Funny, yes … but probably not appropriate for your customers. Instead, follow this simple thank-you note formula:


5 components of a great thank you note

Greet your customer by name.
Express your gratitude, clearly stating why you're sending the note.
Include details about why enjoyed your experience with this customer … this is a prime opportunity to be specific and thoughtful.
Repeat your thanks.
Close with a signoff (Best, Yours Truly, Kindest Regards, Warm Regards, Cheers, ♡ — or whatever feels right for you and your company!) and sign your name.It's a fairly simple formula: use their name, say thanks for a specific reason, and sign off with sincerity. That's it!
Infomation
:

Vibrant Branding

:

Pismo Beach, CA